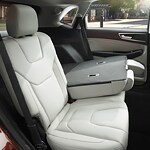 If you're looking to buy a midsize SUV in the near future, the new Ford Edge is certain to have the amenities that you want and need. The Edge checks all the boxes when it comes to comfort, style, and class, and you have the chance to test drive one today at our dealership in East Hartford, CT.
The first things that you're sure to notice when you hop inside are the sumptuous upholstery, the well-configured dash, and the neat, orderly feel of the passenger seating area. A rotary gear shifter occupies minimal space in the center console, and this creates additional storage options that you and your passengers will appreciate.
The Edge's high-end design features aren't limited to the interior cabin. The standard six-cylinder Ford EcoBoost engine is prepared to handle challenging driving conditions of all kinds while the highly engineered, aerodynamic chassis will definitely leave a lasting impression.