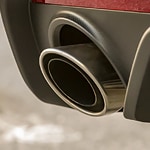 At Hoffman Ford, the Ford Mustang is still one of our favorite sports cars. The latest edition of this popular and iconic car has five available engines. Each of them is engineered to provide the performance that drivers have come to expect from the Ford Mustang.
A 5.2L supercharged V8 is one of the preferred engines for the 2020 Mustang. Ford's production of this engine amounts to its most powerful street-legal design. The 10-speed transmission integrates with the engine, making use of the latest Ford technology to render quick shifting. The paddle shifters are mounted on the steering wheel, just as they are in many modern race cars. There is little in the automotive world that can match a fully loaded Ford Mustang when it comes to sheer power.
Are you ready to experience the next level of performance? Give us a call today to schedule your test drive at our dealership here in East Hartford, CT.