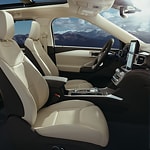 The Ford Explorer is a popular option among three-row SUVs here at Hoffman Ford because of the attention to detail that keeps you focused and refreshed on the road. You can customize many aspects of your driving adventures with the Ford Explorer, including seating, lighting systems, and much more.
Whether you're driving on a long road trip with your family or traveling for work, the Ford Explorer keeps you sharp and focused on the road with available Active Motion technology in the front seats. Both driver and passenger can take advantage of five different massage settings that help fight fatigue by gently massaging your upper and lower back, and pelvic area. The Ford Explorer also has adaptive lighting features that illuminate the road ahead as you turn so you have more time to react to what's ahead.
Take the Ford Explorer for a test drive around East Hartford, CT to see the difference in design for yourself.